The Disston family has been a part of the fabric of the United States since 1833. Emigrating from England with his father, Thomas and his sister, Marianna, Henry Disston and later his sons were destined to make a mark on the American landscape.
As reported on famousamericans.net:
Tenacity is a trait bred into the very fiber of the Disston progeny -- for better or worse, but it was a trait which served Henry well as he built his saw works through great personal losses, business reversals, fire, war and questionable business decisions.
Three days after his arrival at the age of 14, Henry's father, Thomas died. With Thomas died his dreams of developing the lace-making machine he had hoped to build to earn his fortune and bring the rest of his family to America. Instead, Henry and his sister found themselves apprenticed and indentured to survive.
Family lore has it that Henry, after serving his apprenticeship to a Philadelphia tool maker, set out to make his own tools. He would tote his goods down to the ship yard and approach the shipwrights questioning the flexibility of their English steel saws. Henry would grasp the saw, bend the blade tip-to-handle until it cracked. After destroying the shipwright's tool, he would remove his own saw from his pack and say, "Here, try that with this."
Whether or not such guerilla marketing tactics worked among 19th century craftsmen can't be documented but what is well known and remains a part of toolmaking history is the quality and hardness of Disston's saws. Henry made them flexible but with a hardness that held a fine edge and cut longer than the British steel saws. Later band saws, trowels, knives, saws of every sort and even armor plate were part of the Disston legacy.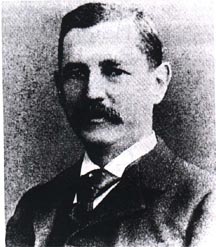 Henry was not the only Disston to make a name for himself. His son Hamilton was either the father of Florida or the worst environmental disaster of his century, depending on your perspective. At one point, Hamilton was the single largest private land owner in the United States. Buying a 6,250 square mile chunk of central Florida, Hamilton set about draining the swamps and developing speculative land. He started sugar cane and other agricultural endeavors just to try and make the venture pay.
Although it finally killed him and left the saw works with a crushing debt, Hamilton and his fellow promoters opened up Florida in a way and on a scale only possible in the 19th century.
For those interested, here are the Disston Family Tree as researched in 1920 by William Disston, grandson of Henry, annotated by my father, also William in 1986 and perpetuated by me for no good reason that I can think of. Also here is an outprint from an article in a 1973 magazine about Hamilton.